---
6.01 The Desert Rose - Press Release
JANE AND LISBON SECRETLY CONTINUE THEIR DANGEROUS MISSION TO NARROW DOWN THE LIST OF SEVEN RED JOHN SUSPECTS, ON THE SIXTH SEASON PREMIERE OF "THE MENTALIST," SUNDAY, SEPT. 29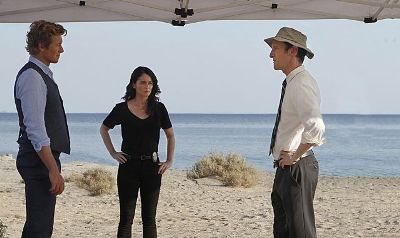 "The Desert Rose" — Jane and Lisbon secretly continue their dangerous mission to narrow down the list of seven Red John suspects as they investigate the murder of a man who was missing for two years, on the sixth season premiere of THE MENTALIST, Sunday, Sept. 29 (10:00-11:00 PM, ET/PT) on the CBS Television Network.
Michael Gaston returns as CBI Director Gale Bertram. Josie Davis guest stars as Sonya, a waitress at a truck stop, and Lauren Stamile ("Grey's Anatomy") guest stars as Madison Yardley, the murder victim's wife.
The seven Red John suspects are: Bret Stiles, Gale Bertram, Ray Haffner, Reede Smith, Robert Kirkland, Sheriff Thomas McCallister and Brett Partridge.

SERIES REGULARS:
Simon Baker (Patrick Jane)
Robin Tunney (Teresa Lisbon)
Tim Kang (Kimball Cho)
Owain Yeoman (Wayne Rigsby)
Amanda Righetti (Grace Van Pelt)

GUEST STARS:
Michael Gaston (Gale Bertram)
Jack Plotnick (Brett Partridge)
Josie Davis (Sonya)
Hugo Armstrong (Mac the Cook)
Marcus DeAnda (Hector)
Lauren Stamile (Madison Yardley)
Trent Ford (Gavin Yardley)
Guri Weinberg (Arek Green)
Mitch Ryan (Cody Benbow)
Andi Carnick (Sac PD Sergeant)
John Troy Donovan (CBI Ron)

WRITTEN BY: Executive Producer and Series Creator Bruno Heller
DIRECTED BY: Chris Long